The National Speakers Association publishes a monthly magazine, SPEAKER, that focuses on the ins and outs of the professional speaking industry. I contributed an article to the current (May 2011) issue describing an episode that took place at a corporate event a few years ago. The article appears in the "Turning Points" section (on page 34 in this issue).
You can read the full article by clicking on the cover image at right.  In summary, though, the thrust of my anecdote and article is twofold:
Great speakers and performers can create moments that are both unforeseeable and unforgettable by exploring unexpected detours in some presentations, so long as…
The speaker/performer has well-developed presentation skills, a knack for keeping cool under fire, and a deep knowledge of "outs" sufficient to bring practically any challenging situation to a successful conclusion.
In the article, I briefly mention the concept of "outs" as it exists in the performance of theatrical magic and mentalism.  An "out" in a magical context is an answer to the question "How am I going to get out of this?"  The performer asks "what if?" and supposes a variety of challenges or changes that could affect the outcome of a routine, then devises responses to each of those situations that will still allow for a successful and entertaining conclusion to the presentation.
This is not a new concept, of course. Contingency planning has existed since the first time a human being had to solve the same problem twice. Every day, millions of executives, managers, team leaders, and individuals ask themselves the same kinds of "what if" questions as they plan their own projects. What if these key personnel are unavailable? What if those shipments are delayed? What if we don't get approval for that part of the project?
An interesting paradigm shift happens, though, when you expand the thought process beyond reactive "contingency planning" to proactive "risk management." In this context, certain risks are considered acceptable based on the knowledge and skill of the decision-maker. Investors and portfolio managers are well acquainted with the idea that some risks are easily worth taking because the potential benefits are large and the downsides can be minimized when approached with expert-level skill. The idea, of course, is to tilt the risk versus reward equation in your favor by using deep skills to devise the outs that minimize the downsides of risk.
Mastering the concept of "outs" gives leaders, managers, and even speakers and performers the freedom to explore alternate paths with a vastly reduced risk of failure. That freedom, in turn, sparks creativity — by exploring alternate paths, you may find successful approaches that you otherwise wouldn't have known about. Sometimes, as in the article, those paths may lead to serendipitous finales that cannot be repeated. Often, though, those paths can lead to observations, offhand comments, and new insights that can add texture and value to the presentation, and which can be permanently incorporated into the script. Anyone can be spontaneous, but the person who has done some advanced planning can be spontaneous with a higher degree of success, and can leverage that success repeatedly in the future.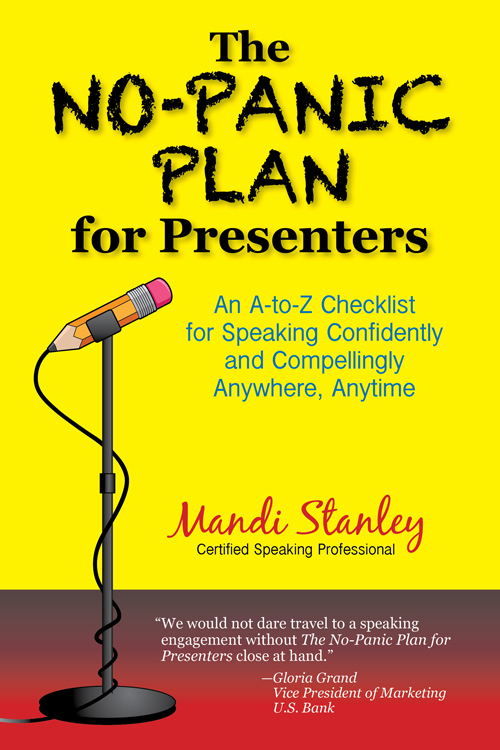 By the way, if it weren't for Mandi Stanley then I wouldn't have appeared in the magazine at all. Mandi is a good friend and an excellent speaker and trainer with a mountain of achievements to her credit.  Her new book, The No-Panic Plan for Presenters, included my story and she recommended it for inclusion in the magazine.  Thanks, Mandi!
If you find yourself in front of a group of people who expect you to make a coherent, understandable presentation – whether daily, frequently or just occasionally – then you owe it to yourself and your audience to get a copy of Mandi's book.  Besides being an informative and helpful work, it's also a fun read.  Reap the insights and benefits of lessons learned by Mandi and many other speakers who have been down these paths before.  Let me know what you think about the article and the book by leaving a comment here.
Thanks again for your support and readership!